Math Tutoring For All Ages
Welcome to Engenius Learning – where math tutoring is reimagined and every student is empowered to excel!
Say goodbye to boring and traditional math instruction that leaves students feeling overwhelmed and unfulfilled. With Engenius Learning, students learn to decode the mysteries of math in a dynamic and engaging way.
Our comprehensive tutoring program covers all math levels, from arithmetic fundamentals to AP Calculus's complexities.
We believe that mastering the bedrock principles is crucial at every phase, and our expert tutors ensure students have a strong foundation before venturing into advanced territories.
At Engenius Learning, we're passionate about transforming the math experience and turning dread and frustrations into an interactive adventure. Our innovative approach to Common Core math ensures mastering it becomes a genuinely enjoyable experience.
Discover the Engenius Learning difference now and take the first step toward success.
Get started with a free 3-Day Trial!
Please call 844-56-GENIUS or visit your nearest ∑ngenius Learning Center for help with Math Tutoring.
Our philosophy at Engenius Learning is to keep math tutoring simple and effective.
Regardless of their current level, we help students progress and understand that learning is a continuous journey. We tailor our tutoring sessions to focus on areas of difficulty, resulting in rapid growth and an increased desire to learn. As we make learning engaging and fun, we witness our students progressing faster than ever.
Let us show you how we get such great results. Make certain to ask us for a 3-Day Free Trial to ensure we are the right place for your child.
Free 3-Session Tutoring Trial
Experience firsthand how we achieve remarkable results. We invite you to try our 3-Day Free Trial to ensure Engenius Learning is the perfect fit for your child's learning journey.
Start Your Free Trial ➤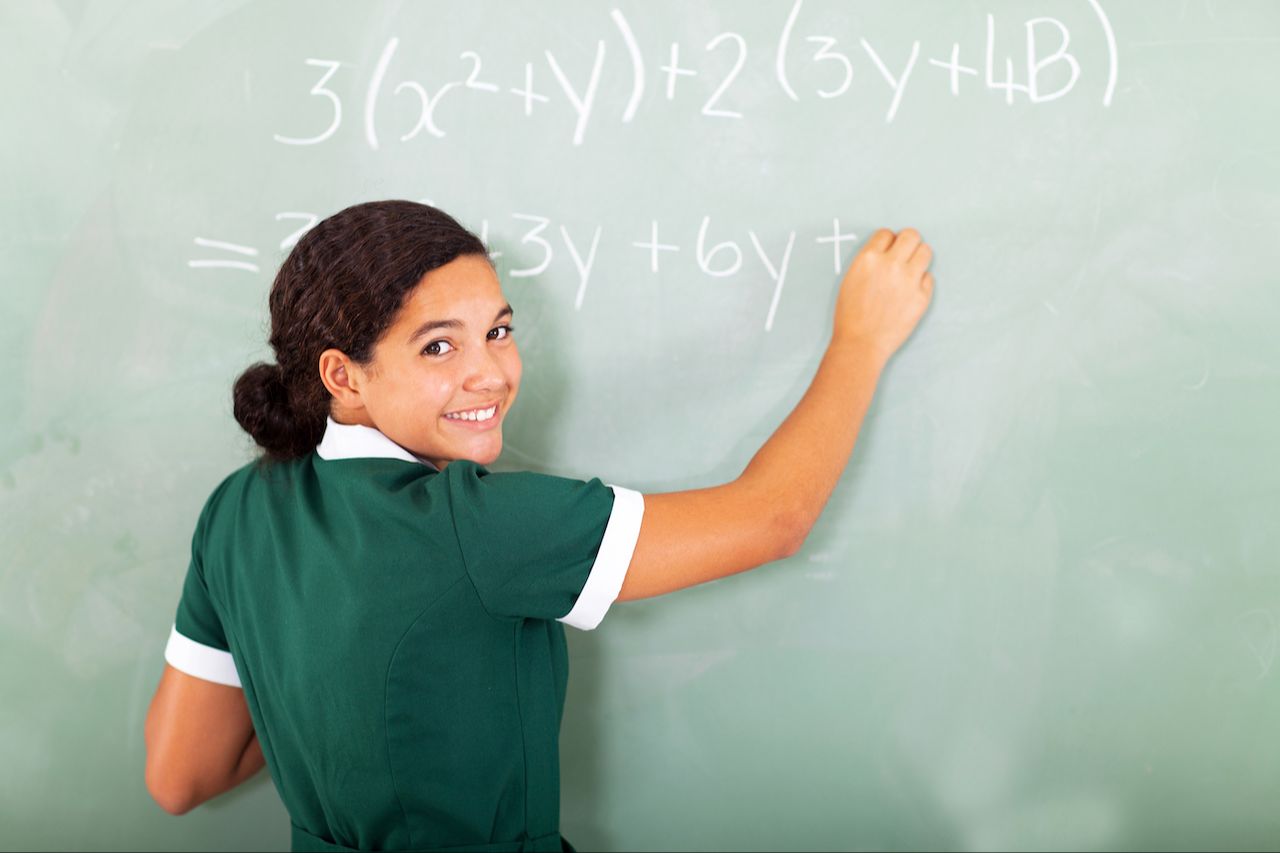 Natalie's Story: A Case Study in Successful Math Tutoring
Parents often feel helpless when they see their children struggling in academic subjects, especially when these difficulties affect their child's self-esteem and confidence. This was the situation faced by the parents of Natalie, a bright young girl who did very well on homework but faltered on quizzes and tests. It wasn't that Natalie wasn't trying - quite the opposite. But something was preventing her from progressing, and it was beginning to affect her morale. A friend recommended Engenius Learning Center to Natalie's parents, who decided to try it.
Initial Consultation
The first step at Engenius Learning Center was to have an in-depth conversation with Natalie and her parents. Engenius recognizes that each child's learning journey is unique and that it's essential to identify a child's specific issues.
Diagnostic Tests
After the initial consultation, Natalie was given a series of short diagnostic tests. The purpose of these tests was to determine in which areas of Natalie was having difficulty. The results showed that Natalie needed help with key math fundamentals from the previous year. In math, skills build on each other, and a weakness in one area can lead to problems down the road.
Personalized Learning Plan
Based on diagnostic testing results, Engenius developed a personalized learning plan for Natalie. Engenius' math curriculum is tailored to each student, allowing Natalie to address her fundamental weaknesses at the right level. This ensured that Natalie focused her time and efforts on the areas she needed most.
Progress
While it took a few weeks for Natalie's grades to improve, she saw an immediate improvement in her confidence after the first session. She felt supported and understood and worked with someone who could patiently explain concepts and problems to her as often as needed without making her feel insecure.
Gradually, Natalie began to understand her homework better, which eventually translated into improved performance on her quizzes and tests.
Building Confidence and Overcoming Fear
Today, Natalie is no longer afraid of math. Instead, she embraces the challenges and enjoys the confidence and accomplishment when she understands a difficult concept or solves a complex problem. The support and targeted instruction she received at the Engenius Learning Center improved her academic performance. They boosted her confidence and resilience - skills that will benefit her in all areas of her life.
Engenius Learning Center's personalized learning and patient instruction approach has significantly impacted Natalie's academic development. This is a testament to their commitment to understanding the unique needs of each student and their ability to adapt their teaching methods accordingly.
If your child struggles with math or any other subject, contact Engenius Learning Center - we can help.
The Journey of a Math Prodigy: Embracing the Fundamentals for Success
Deep understanding and an unwavering embrace of the fundamentals set apart truly successful mathematics students.
At Engenius Learning, we've seen this truth validated time and time again.
Those who grasp the basic principles of math early on are the ones who shine the brightest through high school and university. They are the mathematicians who can easily transpose their knowledge into various complex problems, the engineers who intuitively grasp the mathematical models behind the machines, and the scientists who see the patterns in data that others miss.
Success in math is more than just passing exams - it's about developing a lifelong understanding and appreciation for the subject.
It's about realizing that math isn't a series of disconnected topics but a beautiful, interconnected web of concepts that can solve real-world problems.
At Engenius Learning, we help students unlock their potential by instilling a deep, enduring understanding of fundamental mathematical principles. We ensure that our students don't just succeed in math - they excel, innovate, and lead.
Start your journey to math mastery today. The world needs more Engenius minds!